The Debon Trailers Roadster 255 Box Trailer 800 van trailer is a practical and sturdy choice for professionals and individuals who need extra storage space to carry large loads. The standard version measures 4.41 meters in interior length, which offers plenty of space for equipment, materials, cargo and even cars.
The rear deck loading system allows for the loading and unloading of medium-sized cars, such as city cars, compact cars and sedans. This makes the Roadster 255 Box Trailer 800 an ideal choice for professionals or individuals who need to transport their vehicle for repairs, automotive events or competitions.
The trailer is equipped with
Pullman 2 suspension
suspension with rubber springs and hydraulic shock absorbers for a smooth and comfortable ride, even with a heavy load. The disc brakes also ensure safe and efficient braking.
The total weight varies according to the version, ranging from 2700 kg to 3500 kg, offering a maximum load capacity of up to 1400 kg. The trailer is made of high quality materials to ensure its durability and resistance to harsh weather conditions.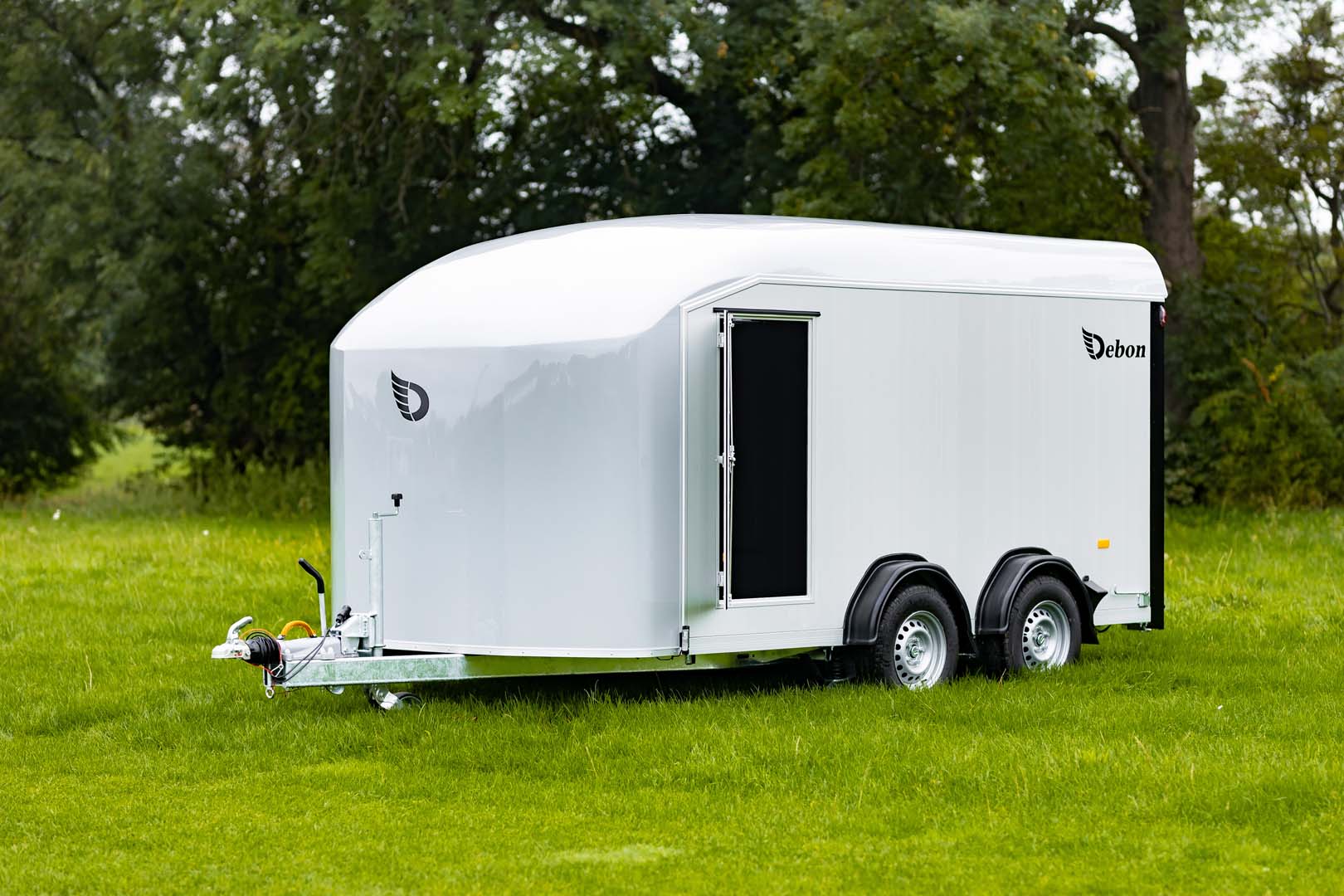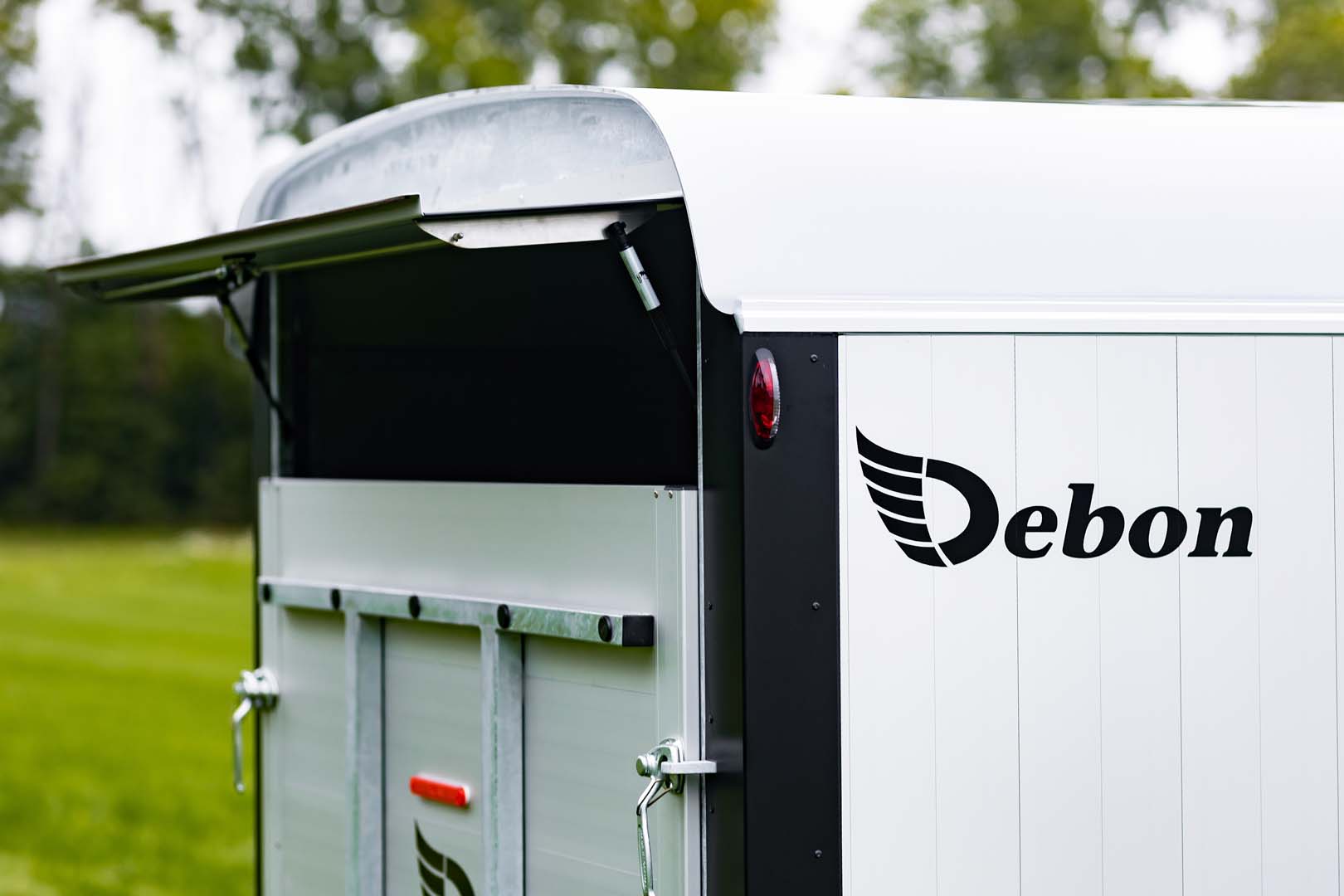 Le fourgon est doté d'une porte arrière qui peut être utilisée pour le chargement de matériel, de marchandises ou de voitures. La remorque est également équipée d'une porte latérale pour un accès facile au contenu.
La Roadster 800 est une remorque polyvalente qui convient à une large gamme d'utilisations, que ce soit pour le transport de marchandises, de matériaux, de petits et moyens véhicules ou pour les voyages en famille. 
Si vous êtes intéressé par l'achat du
 

fourgon Roadster 800 Debon Trailers, vous pouvez contacter

 

votre revendeur local

 

pour plus d'informations. Nous travaillons avec un réseau de

 

revendeurs professionnels

 

dans toute la France, qui seront en mesure de vous conseiller sur le modèle le plus adapté à vos besoins et de vous proposer un devis personnalisé
Roadster 800
Roadster 800 Box Trailer
Braked twin-axle van
Pullman 2: automotive-quality suspension for exceptional roadholding
Galvanised chassis with aluminium frame
Polyester deflector and roof
C800 Vue 2
Roadster 800 Box Trailer
Aluminium walls and floor, guaranteed for 5 years
Side door with key lock
Impact-resistant ABS wings
Rear loading by bridge or door, easy to install
Rear opening dimensions: width 1770 x height 1800mm
C800 Vue 3
Roadster 800 Box Trailer
8 interior lashing rings
Interior lighting
14" wheels & parking chocks
Automatic jockey wheel with manoeuvring handle
Side door
Video Debon voitures anciennes
Video Pullman 2
Roadster 800 Debon trailers
Roadster 800 avec porte latérale
Roadster 800 Debon Aluminium
Roadster 800 vue intérieure
Technical characteristics:
Interior Height :
2060 mm